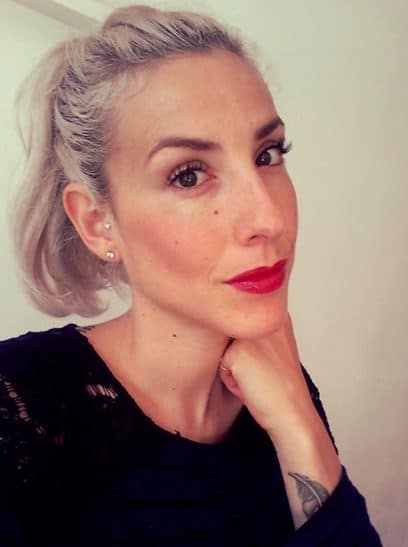 Floortje's Lopes diary – week 1
Floortje Lopes (28) leads a busy life in Amsterdam as a wife, mother of two daughters, owner of two companies, girlfriend and bon vivant. With her active existence, Floortje does not always give the attention and rest to her body that it deserves. And needs!
Partly due to a wrongly treated sports injury, she always has pain in her back and regularly suffers from severe migraines. Together with Iboya Triz, Floortje is going to work to go through life pain-free and with a healthy and fit body.
In these short blogs, Floortje keeps track of her insights and process.
10 november – It had to finally happen. I'm going to make time for myself. Unfortunately, that's something more people (women?) Probably recognize.
Keeping all the balls in the air and sometimes forgetting yourself a little bit. Just a little bit. In any case, it was for me. I love the active existence that I have. Challenging, fulfilling. But it was still time for me to give myself a little more attention.
Since I was 15e I have problems with my back. That has been almost 14 years. A mishandled sports injury from the time I played sports at a high level. I don't actually remember not having back pain. And in recent years, migraines have been added. So looking for relief. I came into contact with Iboya and was immediately interested in the complete way of training. Not the hard physical that I know from previous experiences. Precisely an approach that takes all aspects into account. I really believe in a holistic method.
I was actually quite surprised during the intake. What a personal and professional approach! A very extensive intake, with questions about my lifestyle, nutrition, sports habits and complaints. And an accurate body scan in terms of posture, relaxed and shortened muscles, all factors in the complaints that I have. I was very impressed with all the knowledge and the commitment I could see with Iboya. The analysis was very clear and it made sense. The explanations and examples gave me a good idea of ​​how my body works and how it is far from ideal at the moment. By having all these things pointed out, a new consciousness has arisen. Certainly after doing certain exercises it became very clear what I will be working on in the near future.
In recent days I have become much more aware of my posture and can already correct it and relieve the pain. So fast! In the evening I opened my email and already had a report of our appointment with the discussed topics, tips, recipes and extensive nutritional advice. I am always very conscious in terms of nutrition, but I have received a lot of extra information, tips, products and ingredients that I can use. Because of the inspiration and clear explanation I have the juicer pulled out of the closet again. I immediately notice that I am fitter and have more energy.
Iboya gave me the right feedback that my short nights also messed up my endocrine system. She's probably absolutely right! In addition to physical exercises and nutritional advice, I also received tips for mental rest. I did the exercises and I'm in bed at 23.00 p.m. It is surprising to see that after one (intake) meeting my awareness and way of taking care of myself has already turned in the right direction and I already see results! I have more natural energy, I have less appetite for (bad) food, I am more focused on all the things I do a day and I am rested!
On to the next appointment!
Floortje
Curious about what Floortje does? Go to her website: http://www.treefullofscones.com/