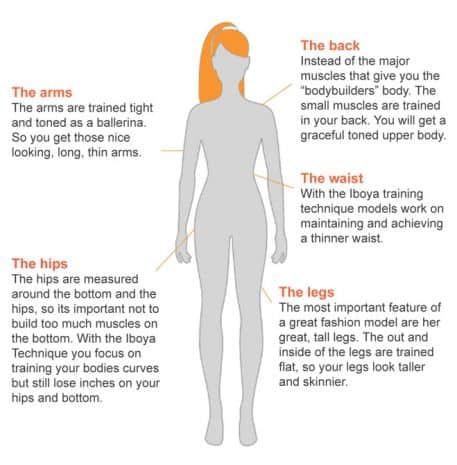 Experience high fashion model Lisa
I came to Iboya to get my body in shape for modeling. My measurements during the first measurement were:
Hip: 91 cm
Leg: 51 cm
Waist: 65,5 cm
Iboya did some exercises with me during the intake and looked extensively at my body. We then discussed together which goals I wanted to achieve and Iboya looked at whether that was possible. I entered a twelve-lesson training. That means that I trained for 1 hour three times a week with Iboya.
My main goals were to narrow my legs, hips and waist size. In addition to these main goals, she also looked at my posture and muscles. So we found out that I had a hollow back and that my muscles in the back are very short. For this I had been given stretch exercises and during the training sessions I always started the exercises from a good posture.
To get good results as quickly as possible, training three times a week is really important! I trained with Iboya on Monday, Wednesday and Friday.
In the first week you learn a lot of exercises and the technique that goes with it. These are all exercises that you can practice at home in your bedroom (for some exercises it is useful to buy some weights).
So on Tuesdays, Thursdays and Saturdays I did the workout at home in my small student room so that I got a better understanding of the technique. This had a positive effect on the training with Iboya, we were able to work more intensively. Another plus of training three times a week was: if an exercise at home didn't work out, I could immediately check with Iboya the next day what I was doing wrong so that I wouldn't learn the exercise wrong at home.
All this means that you train for 6 days without noticing. Three times an hour with Iboya and three times an hour at home.
The results were astounding. After one week (which I actually saw as a start-up week: learning exercises and mastering techniques) I lost 1,5 cm at my thighs and 1,5 cm at my waist. This was super motivating to continue in this way for the coming weeks. I am now in my third week and my measurements are now:
Hip: 89 cm
Leg: 49 cm
Waist: 62 cm
The stupid thing is that I used to exercise myself completely tired in the gym before. I did pilates, yoga, running, kickboxing, circuit training and I took part in the abs quarter. This did not give me the desired result, which eventually discouraged and frustrated me. The exercises at Iboya are intense but do not exhaust you, so that after an hour of exercise in the morning you still have a whole day ahead of you with energy PLUS after the first week, which is incredibly motivating!
At Iboya you can also follow a short and intensive training adapted for 10 day models that maximizes fat burning permanently.
With this you can get in shape in the short term. I really recommend that you first start training with Iboya and then enter this process. This is because you get to know your body well during training. You learn very specifically which muscles you should train and which you should leave alone, you learn the technique so that you exercise the exercises effectively and you do not get injuries and finally you get through the training and home training in a sports rhythm (read: lifestyle) so you are well focused and goal-oriented.
These factors help you to get ready to use the sportfasting models afterwards and to be confident about your own abilities and perseverance.